Australia Japan Society – New South Wales
The Australia Japan Society of NSW Incorporated was founded in Sydney in 1968.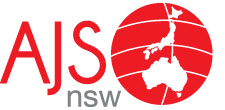 The co-patrons of the Society are The Premier of New South Wales and The Consul General of Japan. The Society has close links with The Japan Chamber of Commerce and Industry, The Japanese Society of Sydney and other "Japan-focused" organisations.
The Society brings the Australian and Japanese business communities together for regular functions with guest speakers who are leaders in commerce, industry, politics and government. The Society holds a business, social or cultural function each month and publishes its newsletter, Tomodachi, each quarter.
The Society organises and co-operates in many cultural events which aim to introduce Japanese members to Australia's vibrant and diverse cultural scene while at the same time introducing Australian members to aspects of the unique culture of Japan.
Contact
Australia Japan Society of NSW Incorporated
PO Box R937,
ROYAL EXCHANGE NSW 1225
Tel: 02 8078 4110